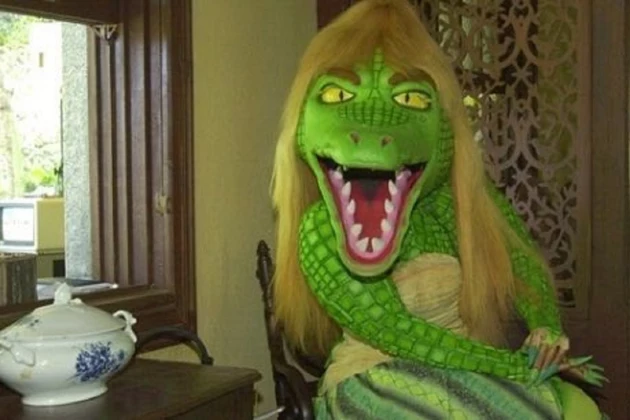 'Sitio do Picapau Amarelo'
Better learn to put some respect on Cuca's name, because she's the latest meme queen to captivate the web. (The Babadook is baba-shook, indeed!)
The character, a villainous, folkloric anthropomorphic alligator (not a crocodile, get it straight) witch from the early 2000s Brazilian children's TV show, Sitio do Picapau Amarelo, has quickly become social media's new diva du jour. And she is sassy!
With her vigorous head twitching, expressive hands and hair flipping, the blonde reptile — based on an old South American folk tale — is currently the web's premiere conduit for pop culture commentary (like Nicki Minaj's legendary Miley Cyrus call out) and parody (including a number of hilariously on-point Wendy Williams impersonations).
See some of the funniest Cuca memes and reactions, below:
I am truly sick of y'all at this point pic.twitter.com/AtLDlFXbYF
— HOOD VOGUE (@kxyonn) June 16, 2017
Cuca Horror Story: Coven pic.twitter.com/nd4QvtqlzN
— AHS Brasil (@AHSBrasil) June 16, 2017
"Now bitch you know I ain't one to gossip so you didn't hear this from me let's be clear on THAT" pic.twitter.com/Xl2x3D0hft
— Demi Lobotomy (@shookshack) June 16, 2017
gay twitter: babadook is the new gay icon!!!
three days later: pic.twitter.com/9pF9kjq4w7
— T. Kyle ️‍ (@tkylemac) June 16, 2017
me trying to explain to all my friends why cuca is the meme of the year pic.twitter.com/DreMD1F6w7
— Gissell (@Glassygg) June 16, 2017
WENDY WILLIAMS (cuca) IS A SAVAGE: a thread… pic.twitter.com/VuqCMRBavl
— D4RBY (@qicle) June 16, 2017
pic.twitter.com/yTdm15Dot1
— Uma Kompton (@KomptonMusic) June 16, 2017
Miley what's good? pic.twitter.com/x1SmCEGzDL
— Uma Kompton (@KomptonMusic) June 16, 2017
B I C T…H pic.twitter.com/50oWiFlU1Z
— miss Cuca (@AmericanHunty) June 15, 2017
The Best Celebrity Tweets Ever:
Image of