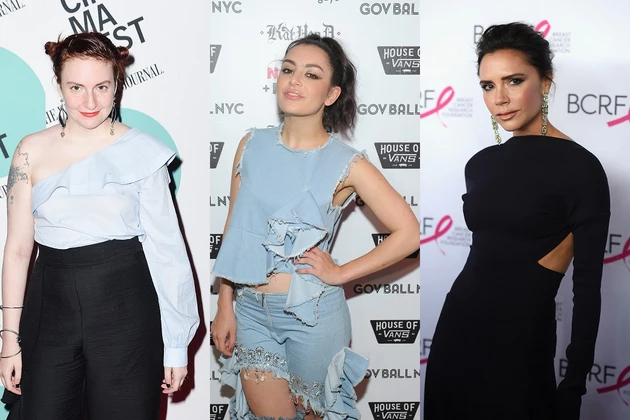 Nicholas Hunt / Craig Barritt / Dimitrios Kambouris, Getty Images
Happy Father's Day!
Celebrities swarmed to social media on Sunday, June 18, to celebrate the wonderful dads in their life, whether their own fathers or their children's fathers.
Victoria Beckham, a.k.a. Posh Spice, shared a sweet family photo on Instagram, where she sent her husband, David Beckham, lots of love, while actress-director Lena Dunham showed off her dad's artistic side on Twitter.
Below, see more social media love for Hollywood's most famous fathers:
I took this photo right after John won his Tony a couple weeks ago. In all our time together (11ish years!!?!?) I cannot believe how much he has grown as a man and a husband. To see him go from big goals to big ideas to big wins and the love of so many makes me so so happy. 10 years ago, I didn't think he could get better, then I got to see him as a father. I don't know how or why Luna, my family and I got so lucky in this life but I will stop questioning and just be grateful. I love you so much, John. Happy Father's Day.
Happy Father's Day! https://t.co/flWSGJKXEz
— George Takei (@GeorgeTakei) June 18, 2017
The best daddy in the world!!! We all love u so,so much X kisses from us all x
Of all that I've done in my life, I'm most proud to be Sasha and Malia's dad. To all those lucky enough to be a dad, Happy Father's Day! https://t.co/ya1YAJignC
— Barack Obama (@BarackObama) June 18, 2017
My father is my favorite artist and my best friend pic.twitter.com/2YQ1xOswbJ
— Lena Dunham (@lenadunham) June 18, 2017
shout out to all the dads out there. you're all cool. but not as cool as mine
— CHARLI XCX (@charli_xcx) June 18, 2017
Happy joyous Sunday to all the dads showing us how it's done and all the moms who are being dads RN
— Lena Dunham (@lenadunham) June 18, 2017
The moment everything changed, the world cracked open, and my heart melted. ‍ Happy Fathers Day to all my fellow #Dadas #Pops #Dads #Papas & #Padres. #firstfathersday
Celebrate 10 Iconic Dad Characters in Movies:
Image of